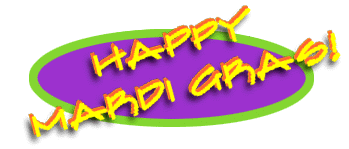 As a person growing up, living and working in this part of Louisiana, Mardi Gras has always been a part of our life and traditions.



Contrary to what alot of folks think. Mardi Gras is not just that one Day of the year when all of the world convulges upon New Orleans to get drunk and get naked. Although,, that happens to. Mardi Gras is a six week long celebration, beginning on January 6th, the feast of Epiphany and ending on Febuary 16. Fat Tuesday, the last feast day before Lent



Mardi Gras (Fat Tuesday) moves from year to year but always falls on the Tuesday before Ash Wednesday and 46 days before Easter. It can fall on any Tuesday between February 3rd and March 9th



Mardi Gras in Rural Acadiana is different from the New Orleans Mardi Gras you have all heard about. Starting Bright and Early Mardi Gras Morning , masked Riders begin their day on horseback. The go from home to home around the community where they gather makings for a community wide Gumbo in the evening. The riders approach a home, where the captain gets permission to enter the property. The riders may then charge toward the house, where the Mardi Gras sing, dance, and beg until the owner offers them an ingredient for a gumbo.



Often, the owner will throw a live chicken into the air that the Mardi Gras riders will chase, like football players trying to recover a fumble. This can be quiet a site to see as most participants begin drinking long before the sun comes up and are usually well inibriated at this time.

The History of Mardi Gras

The History of the King Cake


Visit these sites for More information on Louisiana Mardi Gras

Mardi Gras in Rural Acadiana

Mardi Gras in Mamou Louisiana Mardi Gras in Mamou..Learn about Mardi Gras in this part of the State. This is near where I live and work.

Chips Mardi GrasLinks
Hints if you're coming down for the party and what to see and what to do

Louisiana Dept of Tourism's Mardi Gras Page

Mardi Gras Links



Louisiana!

Char's History of Louisiana Please visit my very very good friend Char's wonderful History of Louisiana. And while you're there check out her whole page. A Taste of Louisiana It is filled with wonderful recipes and other general information about the state.And she's a Wrestling fan like me ;o)

.