In Memory Of....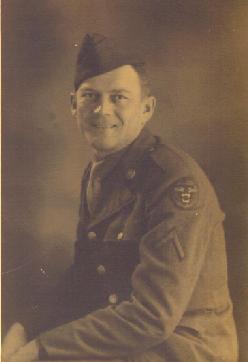 Paw Paw Earl
June 19, 1911 - June 13, 1994
I have fought a good fight, I have finished my course, I have kept the faith. 2 Timothy 4:7


On June 13, 1994, while the rest of the United States was reeling over the murders of Nicole Brown Simpson and Ronald Goldman, my family was reeling itself. At about 10:50 that morning, the greatest man I ever knew finished his fight on this earth and went on to meet the Lord.

My grandfather had kidneys that were smaller than the average person. That combined with years of fluctuating hypertension and antihypertensive medications, along with Coronary Artery Disease, reeked havoc on the function of those kidneys. He went into chronic renal failure early in the year of 1994 and began on Dialysis that spring. Being tied down to a dialysis machine for several hours a day three days a week was quite a difficult task for my grandfather, and after several months of hemodialysis and compliance to a strict diet, the doctors decided that it was not helping at all. My grandfather made the decision on his own to quit dialysis. He said he had lived a good life and was ready to go meet the Lord. He was one week shy of his 83rd birthday, when he died peacefully, in his home surrounded by his two children and the two grandchildren he helped rear.


My parents were divorced when I was a child and my father moved relatively far away. My grandfather, who lived very close to me was the major male influence in my life from the time I was 11 on. I have so many good memories of my grandfather who was a loving, kind, caring, gentle, man.


My grandfather was a hero, in every sense of the word. He had but an eighth grade education, yet he never failed to amaze me with his wisdom. He was a veteran of World War II. He fought in the Battle of Normandy in the Army. Three of his brothers also served in the military during this time. They got together once or twice during their tours. That was about the only thing he ever said about his time at war. That and the fact that Europe was so beautiful he wished we could see it one day. Everything else that he experienced he kept close to the vest as most of his fellow Veterans do.


My grandfather was always there for me. From the time I was a baby until I married and was out on my own. I was the first grandchild and there is picture upon picture of me asleep on my grandpa's lap (he was snoring also) I used to pack my suitcase and tell my mom and dad not to come get me cause I was going on vacation and spend two weeks at his house during the summer.


He made up silly songs and rhymes, "Hey Diddle Diddle, the cat and the fiddle, the cow jumped over the moon. Laugh see the sport with the little feist dog, and Tish ran away with the spoon" I have no idea what he meant, nor does it matter now, but I still couldn't tell you exactly how that nursery rhyme goes correctly. He would let me go with him in the garden and pick the vegetables. Then let me help him shell the peas and beans, although, I'm sure that more times than not I was more of a hinderance than a help. He let me help him "pull the clothes off of the squirell" when he went hunting.


My grandfather was someone I admired greatly. He taught me one of my biggest lessons. His eduction was not the greatest because back then he had to work to help support his family. He was the Sunday School Director at our church for a very long time and on Saturday afternoons he would always prepare for the next morning. He was never afraid to ask for help when he didnt know what a word was or what it meant, even if asking for help meant asking his granddaughter. He was also the strongest man I knew. Never once questioning what he had been given in life. Only accepting on faith for the Lord to take care of him and his.


I have very few regrets in my life. One of which is that my grandfather never got to meet his great-grandchild. I know he would have been so proud of him. I only hope that I can raise my son to be half the man that his PawPaw was.


I love you and I miss you PawPaw Earl. You will always be in my heart.


Home